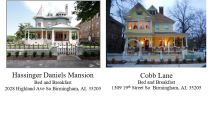 Cobb Lane Bed and Breakfast & Hassinger Daniels Mansion Bed and Breakfast Information
Description
Both inns become more valuable each year as fewer Victorian buildings survive. They are popular destinations in historic district tours and in popular magazine stories, such as Southern Living and Southern Beauty. They have been in national advertisements, for example Kawasaki motorcycles. College professors request special visitation by their students so they can lecture about the historic architecture and interiors. Students sometimes write photo journals for their college course credits about the premises. Northern civil rights groups reserve the inns when studying at the Birmingham Civil Rights Institute and the 16th Street Baptist Church. Award winning high school interior design students sometimes stay at the inns to learn about period decorating and domestic arts.
Facilities
Air conditioning
Weddings & private parties
WiFi internet
Garden
Terrace
Ice machine
Breakfast lounge
Fire alarms with lights
Housekeeping - daily
Express check out
Designated smoking area
Breakfast in the room/unit
Well lit path(s) to entrance
Parking
On-site parking
Free parking
Limited parking
Business Facilities
Meeting rooms
Conference & events
Dining
Cooked breakfast
Free breakfast
American breakfast
Vegetarian options
Vegan options
Gluten-free options
To-go breakfast
Activities and Experiences
Billiards / pool / snooker
Bird watching
Bowling alley
Canoeing
Cycling
Dancing
Dog racing
Fine dining
Fishing
Football
Golf
Golf - driving range
Karaoke
Kayaking
Mountain biking
Art galleries & museums
Nightclubs
Rock climbing
Shopping
Antiques & fairs
Skydiving
Table tennis
Theater
Walking
Wine tasting
Cinema
Concerts, music
Cooking
Entertainment
Family fun
Fitness
History/science museums
Hunting
Leisure park
Motorsports
Pampering
Pub crawl
Retreat
Special interest
Team building
Train spotting
Hiking
Accessibility
The 2 Victorian Mansions from 1898 are on the National Historic Registry. A guest with mobility challenges should reserve Camellia room (has toilet side mount bars) or Rose room at Cobb Lane BB. At Hassinger Daniels Mansion BB, choose Victorian Chamber. Neither property has an elevator, a wheelchair lift, ramps, or accessible bathrooms. Both properties have fire sprinklers and full suppression, including flashing strobe light fire alerts in each room and hard wired smoke alarms. Both properties are monitored for fire 24/7.
Policies
Check in:
3:00 PM till 9:00 PM
Early check-in available on request
Check out:
11:00 AM
Late check-out available on request
Child Policy:
Adults preferred
Smoking Policy:
No smoking
Pets:
No pets
Accommodation type:
Bed and Breakfast
Booking Terms and Conditions
Directions
Road

from

New Orleans

(343.0 miles)

Follow I-59 N to 17th St N in Birmingham. Exit from I-59 N
4 h 54 min (341 mi)

Take 7th Ave N to 19th St N
2 min (0.4 mi)


Road

from

Mobile, AL

(256.0 miles)

Follow I-65 N to 11th St N in Birmingham. Take the 3rd Ave N exit from I-65 N
3 h 34 min (255 mi)

Take 5th Ave N to 19th St N
4 min (1.0 mi)


Road

from

Montgomery, AL

(90.0 miles)

Follow I-65 N to 11th St N in Birmingham. Take the 3rd Ave N exit from I-65 N
1 h 15 min (87.8 mi)

Take 5th Ave N to 19th St N
4 min (1.0 mi)


Road

from

Atlanta, GA

(147.0 miles)

Follow I-20 W to 6th Ave N in Birmingham. Take exit 126A from I-20 W
2 h 9 min (146 mi)

Turn right onto 6th Ave N
3 min (0.7 mi)


Road

from

Chattanooga, TN

(148.0 miles)

Follow I-59 S to 6th Ave N in Birmingham. Take exit 126A from I-59 S
2 h 7 min (147 mi)

Turn right onto 6th Ave N
3 min (0.7 mi)


Road

from

Huntsville, AL

(102.0 miles)

Follow I-565 W and I-65 S to 17th St N in Birmingham. Take exit 261A from I-65 S
1 h 29 min (101 mi)

Take 7th Ave N to 19th St N
2 min (0.4 mi)

Scroll to top