Reviews
The Belmont 1857
(11 Guest Reviews)
100 %

Would Recommend
Review Summary
Rooms

5.0

Value

5.0

Friendliness

5.0

Cleanliness

5.0

Amenities

5.0

Service

5.0

Location

4.6

Breakfast

5.0
The Belmont 1857 Information
Description
Welcome to The Belmont 1857 in the heart of the Mississippi Delta! The mansion consists of 9,500 square ft, 8 bedrooms, and 8 baths- we offer each room for rent individually or you can rent the entire mansion. A stay includes your own private bedroom and bath as well as full access to the home's public rooms and grounds. You can sit and relax in the Lady's or Gentlemen's Parlors, enjoy the breeze on one of our huge screened porches, have a meal in our grand dining room, or cozy up with a good book in our second floor lounge. The Belmont 1857 is decorated in the finest period antiques which you are welcome to touch, use, and enjoy! Onsite, you will be hosted and given an historic account by knowledgeable owner Mr Bradley Hauser. He can suggest local sights and activities, help you with dinner plans, or allow you to enjoy the peace and quiet Belmont has to offer. The mansion is heated and cooled with a geothermal system that keeps it perfectly comfortable year round. Our suites have exquisite antique furnishings, soft linens, and brand new bathrooms with complimentary Beekman Brothers soap & shampoo. You will also be provided with bottled water, fresh towels, turn down service, and wifi and internet television at our historic property.
The Belmont 1857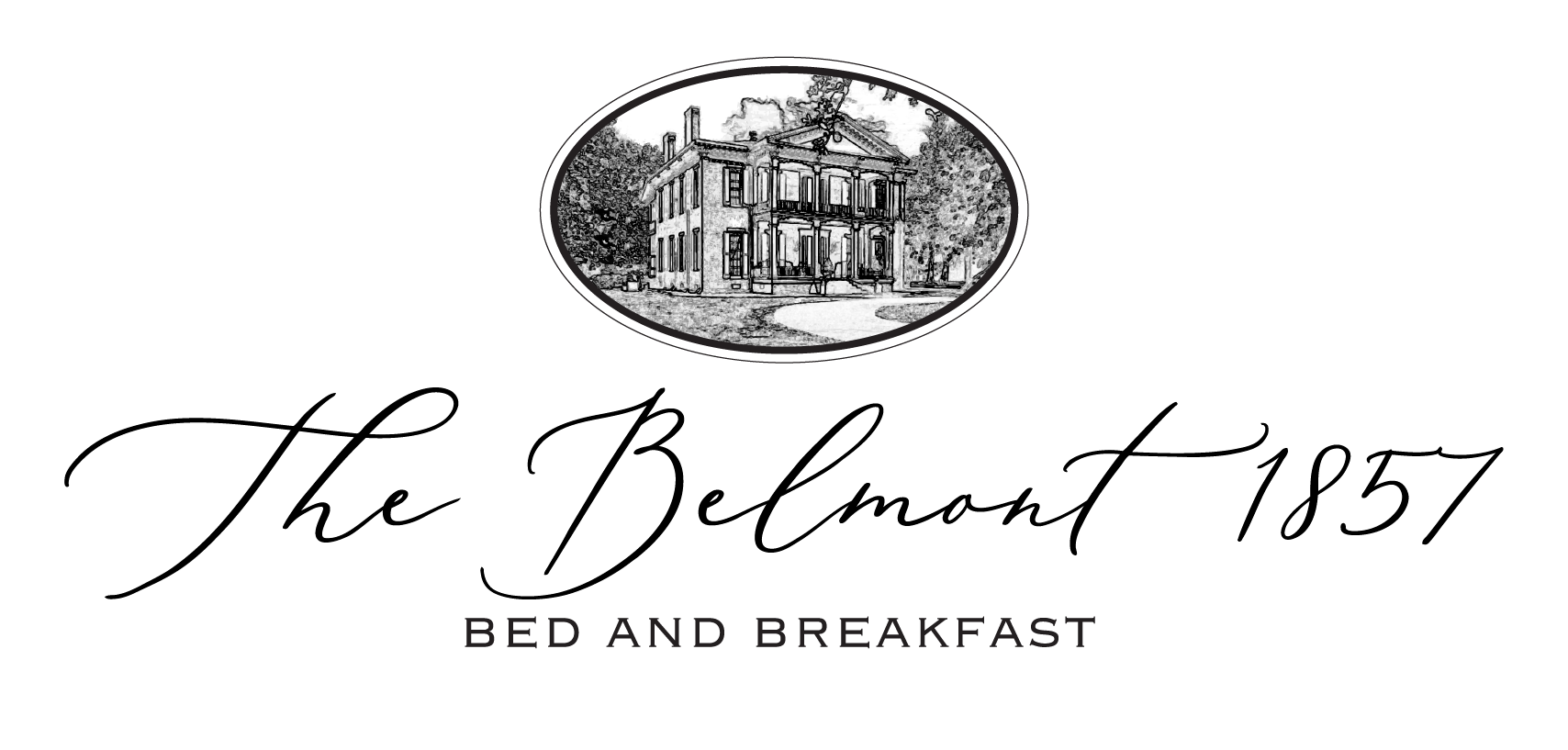 Peace and tranquility abound at The Belmont 1857 wrapped up in a magnificent, antebellum mansion that will help you embrace your inner simple self. The historic setting, luxurious amenities and true Delta Southern hospitality make it a truly memorable destination. The mansion features 8 suites, and an original smokehouse featuring elegant furnishings with a mix of modern accents, elegant charm true to the period and gorgeous antiques. Guests can tour the mansion, enjoy a Southern continental breakfast on the porches and soak up all of the history from years gone by. Fall asleep under a sky full of stars and wake up rejuvenated in the morning as the fields come alive. Enjoy a cup of coffee on the back porches and watch nature frolic in front of you. The host strives to make your experience better than you could ever imagine, After many years in the broadcasting industry, he is living his dream of providing an unmatched experience where guests can linger for a while, spend the night and appreciate an old-fashioned way of life. The Belmont 1857 offers the ideal place to hide away from the world, slow down and enjoy all of life's details and splendor.
The Belmont 1857 has been welcoming guests since December 2015
Cleaning and safety
Professionally cleaned
Disinfected daily
Disinfected between stays
Hand sanitizer
Linens washed to local guidelines
Linens washed above 60°C/140°F
Request no staff entry to room
Staff trained in safety protocol
Sanitized tableware
Amenities
Air conditioning
BBQ/Picnic area
Books, DVD, games
Free high speed internet
Free WiFi internet
Porter / concierge service
Wakeup call
Weddings & private parties
Laundry
High speed internet
WiFi internet
Meet & greet service
Cleaning service
Turndown service
Transport service
Ice machine
Wheelchair friendly
Housekeeping - daily
Housekeeping - weekly
Pet bowls
Designated smoking area
Kitchen/kitchenette
Pet(s) live on property
Library
Parking
On-site parking
Free parking
Secure parking
Long-term parking
Recreational vehicle parking
Private parking
Children's Facilities
Children's menu
Highchairs
Business Facilities
Desk working station
Meeting rooms
Photocopying
Printing
Dining
Continental breakfast
Breakfast
Free breakfast
American breakfast
Gluten-free options
Activities and Experiences
Art galleries & museums
Antiques & fairs
Arts & crafts
Card, board, video games
Casino, arcades
Exhibition
Group parties
Policies
Check in

Early check-in available on request

Check out

Late check-out available on request

Child Policy

Children welcome

Smoking Policy

No smoking

Pets

Dogs welcome, Pets welcome, Pets by arrangement

Parties Allowed

Parties allowed including bachelor parties

Quiet Hours

Quiet hours between 22:00 and 07:00
Booking Terms and Conditions
Accessibility
Chair lift in the back staircase.
Directions
Road

from

Dallas TX

(390.0 miles)

Get on

 

I-30 E

 

from

 

Young St

 

and

 

South St. Paul Street

Take

 

I-20 E

 

to

 

US-165 N

/

Martin Luther King Junior Drive

 

in

 

Monroe

. Take exit

 

118A-118B

 

from

 

I-20 E

Continue on

 

US-165 N

 

to your destination in

 

Washington County

Road

from

Memphis TN

(162.0 miles)

Follow

 

US-61 S

 

to

 

MS-438 W

 

in

 

Washington County

Follow

 

MS-438 W

 

to your destination

Get on I-40

1 min (0.4 mi)




Follow US-61 S to MS-438 W in Washington County

2 hr 31 min (152 mi)




Follow MS-438 W to your destination

11 min (9.8 mi)




Road

from

Little Rock AR

(149.0 miles)

Follow

 

I-530 S

 

and

 

US-65 S

 

to

 

MS-454 E

 

in

 

Washington County

Follow

 

MS-454 E

 

and

 

MS-1 S

 

to your destination

Get on I-630 E

2 min (0.3 mi)




Follow I-530 S and US-65 S to MS-454 E in Washington County

2 hr 14 min (141 mi)




Follow MS-454 E and MS-1 S to your destination

9 min (7.9 mi)




Road

from

Nashville TN

(368.0 miles)

Follow

 

I-40 W

 

to

 

US-61 S

/

S 3rd St

 

in

 

Memphis

. Take exit

 

7

 

from

 

I-55 N

Follow

 

US-61 S

 

to your destination in

 

Washington County

Get on I-40 W/I-65 N

3 min (0.8 mi)




Follow I-40 W to US-61 S/S 3rd St in Memphis. Take exit 7 from I-55 N

3 hr 8 min (214 mi)




Follow US-61 S to your destination in Washington County

2 hr 34 min (153 mi)




Road

from

New Orleans LA

(278.0 miles)

Get on

 

I-10 W

 

from

 

Poydras St

Take

 

I-55 N

 

to

 

MS-27 N

 

in

 

Copiah County

. Take exit

 

72

 

from

 

I-55 N

Follow

 

MS-27 N

,

 

US-61 N

 

and

 

MS-1 N

 

to your destination in

 

Washington County

Get on I-10 W from Poydras St

6 min (1.3 mi)




Take I-55 N to MS-27 N in Copiah County. Take exit 72 from I-55 N

2 hr 20 min (161 mi)




Follow MS-27 N, US-61 N and MS-1 N to your destination in Washington County

2 hr (115 mi)




Road

from

Chicago IL

(690.0 miles)

Take

 

W Ida B. Wells Dr

 

to

 

IL-110 W

/

Chicago - Kansas City Expy

/

Dwight D. Eisenhower Expy

/

Eisenhower Expy

Follow

 

I-57 S

 

and

 

I-55 S

 

to

 

US-61 S

/

S 3rd St

 

in

 

Memphis

. Take exit

 

7

 

from

 

I-55 S

Follow

 

US-61 S

 

to your destination in

 

Washington County

Take W Ida B. Wells Dr to IL-110 W/Chicago - Kansas City Expy/Dwight D. Eisenhower Expy/Eisenhower Expy

2 min (0.4 mi)




Get on I-90 E/I-94 E

4 min (1.5 mi)




Follow I-57 S and I-55 S to US-61 S/S 3rd St in Memphis. Take exit 7 from I-55 S

7 hr 45 min (535 mi)




Follow US-61 S to your destination in Washington County

2 hr 34 min (153 mi)



Scroll to top