Victorian Charm
Delicious Breakfast
Personal Attention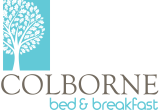 Colborne Bed and Breakfast
Colborne Bed and Breakfast Informació
Descripció
The Colborne Bed and Breakfast, built in 1891, is located on a quiet residential street, just a brief walk to the historic downtown shopping square, beaches, museums, concerts, and recreational trails. Our home has three stories with 4 tastefully decorated bedrooms on the 2nd floor, and an efficiency suite located in the attic. Every Guest room is fully furnished and has either a whirlpool bath or a shower en-suite, free WiFi, a TV, a hairdryer, and Keurig coffee maker. Our King rooms also feature a sitting area with gas fireplace. Our Guest living room is equipped with a TV, fireplace, board games, books, and movies. For those who prefer a more peaceful space we have an enclosed front sun porch, gardens, and a patio to help you rest and relax. Gift certificates are always available and are a perfect gift idea for a wedding, anniversary, or any special occasion. Included with your accommodation is a full Gourmet Style Breakfast served each morning in either your room or our backyard patio. Please let us know of any food allergies and dietary needs at the time of your will do our best to accommodate them in our meals. Whether you are looking to spend a romantic weekend or just get away from the hustle and bustle of the city, the Colborne Bed and Breakfast is your perfect destination for any occasion.
Intal.lacions
Aire condicionat
Libres, DVDs, jocs
Wifi Gratis
Servei de benvinguda
Adaptadros d'endoll
Jardí
Sala d'esmorzars
Alarmes d'incendi amb llum
Sala de jocs
Cuina / cuina americana
Terrassa per prendre el sol
Snack bar
Aparcament
Aparcament a l'establiment
Aparcament gratuït
Menjador
Esmorzar complet
Esmorzar gratuït
Esmorzar Americà
Esmorzar saludable
Opcions vegetarianes
Opcions veganes
Opcions sense gluten
Activitats i experiències
Camp de bàdminton
Observació d'aus
Navegació
Bolera
Piragüisme
Ciclisme
Gastronomia
Pesca
Golf
Carreres de cavalls
Excursions a cavall
Caiac
Museus / galeries
Compres
Compres - antiguitats
Pista de patinatge
Tennis taula
Pista de tennis - a l'aire lliure
Teatre
Voleibol
Caminant
Activitats aquàtiques
Tast de vi
Vida agrícola
Aventura
Activitats de platja
Cartes, jocs de taula, vídeo jocs
Casino, centres comercials
Cinema
Entreteniment
Sala de Fitness
Jocs, escacs, cartes
Museus de ciència/història
Parc d´atraccions
Senderisme
Accessibilitat
Unfortunately, we are currently unable to offer any accessible rooms or facilities as the guest rooms are located on the 2nd and 3rd floors of our Victorian home.
Direccions
Road

desde

Kitchener, ON

(116,0 Km)

Take Regional Rd 12, Waterloo 7, Perth County Rd 119, Perth County Line 55 and Blyth Rd/Huron 25 to Gloucester Terrace in Goderich. Follow Gloucester Terrace, Caledonia Terrace and Waterloo St N to West St. Approx. 1.5hrs.


Road

desde

London, ON

(99,0 Km)

Take Richmond St which is ON-4 N to Clinton, ON then ON-8 to Kingston St in Goderich. Use Courthouse Sqr. to exit onto Colborne Street. Approx. 1.33 hrs.


Road

desde

Sarnia, ON

(123,0 Km)

Follow ON-402 E to Mandaumin Rd/County Rd 26/Regional Rd 26. Take exit 15 from ON-402 E
8 min (13.6 km). Take Lakeshore Rd/Lambton County Rd 7 to ON-21 N in Lambton Shores
23 min (32.4 km). Follow ON-21 N to Elgin Ave E in Goderich. Turn left onto West Street to the Courthouse Sqr and follow the one way to Colborne Street. Approx 1.5 hrs.


Road

desde

GPS Coordinates

(0,0 Km)

43.7451402343439,-81.7138436436653

Desplaci's cap amunt