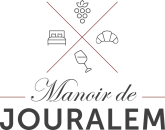 Manoir de Jouralem Informació
Descripció
Le Manoir de Jouralem et sa chapelle sont situés dans des jardins de 7 hectares de jardins et de bois de chêne entre Nantes et Tours. Le château de la ville la plus proche, Brissac-Quincé est le plus haut de France. Vous trouverez plusieurs bistrots et restaurants de bonne qualité à quelques minutes à vélo, ou un court trajet en voiture et cinq restaurants étoilés au Michelin dans un rayon de 80 km. Chacune des quatre chambres spacieuses ont une salle de bains privative, un lit 150cm avec des draps en coton égyptien, une couette en duvet d'oie et un matelas Hypnos. Dans les chambres, vous trouverez des boissons fraîches, une sélection de thés et une machine à café Nespresso. En été, le petit-déjeuner du Manoir de Jouralem est servi avec vue sur la piscine et le vignoble biodynamique voisin.
Bienvenue chez nous! Nous avons déménagé en France d'Angleterre en 2017 pour trouver un mode de vie idyllique pour nos enfants jumeaux et notre chien. Nous sommes passionnés par la cuisine locale, de saison et le bon vin. C'est avec plaisir que nous offrons notre hospitalité à nos clients du Manoir de Jouralem.
Intal.lacions
Consigna de maletes
Bar
Zona de barbacoa / pícnic
Libres, DVDs, jocs
Wifi Gratis
Saló
Restaurant
Aparcament per a Bicicletes
WIFI
Adaptadros d'endoll
Piscina a l'aire lliure
Jardí
Terrassa
Terrassa per prendre el sol
Bicicletes disponibles (gratuïtes)
animal(s) domèstics viuen a la propietat
Esmorzar servit en el restaurant
Aparcament
Aparcament a l'establiment
Aparcament gratuït
Menjador
Esmorzar Continental
Esmorzar complet
Sopar
Esmorzar gratuït
Esmorzar saludable
Opcions vegetarianes
Opcions sense gluten
Activitats i experiències
Observació d'animals
Observació d'aus
Navegació
Piragüisme
Ciclisme
Gastronomia
Pesca
Golf
Excursions a cavall
Caiac
Ciclisme de muntanya
Museus / galeries
Ràfting
Compres
Compres - antiguitats
Tennis taula
Teatre
Caminant
Activitats aquàtiques
Tast de vi
Vida agrícola
Jocs, escacs, cartes
Parc d´atraccions
Senderisme
Polítiques
Entrada

Entrada anticipada disponible sota petició

Sortida

Sortida tardana disponible sota petició

Política Infantil

Cap preferència

Política de fumadors

No fumar

Mascotes

S'admeten mascotes amb previ avís

Parties Allowed

Parties not allowed
Termes i condicions de reserva
Direccions
Road

desde

A87 motorway

(13,0 milles)

From the A87 motorway south of Angers, take the D748 signed to Brissac-Quincé. After 3.2km, take the exit signed L'Homois/St Jean-des-Mauvrets/Gennes. Follow the D232 for 3km. At the roundabout take the first exit towards St Saturnin-sur-Loire. Pass through the village and continue through the vineyards. After 2.8km, turn left signed St Mathurin and immediately turn left and then right. Pass the Château de Bois Brinçon on the right. Continue past the farm on the left and turn left onto Rue de Jouralem. Manoir de Jouralem is 30 meters on the left. 
Desplaci's cap amunt