Comentaris
The Meetings B&B
(66 Comentaris dels hostes)
88%

Ho recomanaria
Resum de les Evaluacions
4,2

Valor

4,4

Amabilitat

4,5

Neteja

4,4

Intal.lacions

4,1

Servei

4,5

Ubicació

4,6
The Meetings B&B Informació
Descripció
The Meetings is a welcoming family-run establishment providing a Wicklow Craft Gallery, Bar, Lounge, Entertainment and Bed & Breakfast accommodation, situated in the heart of Avoca in Co. Wicklow. Overlooking the celebrated Meeting of the Waters, the property enjoys panoramic views of the converging waters of the Avonbeg and Avonmore rivers, and of the surrounding countryside. Guests have access to a outside deck area overlooking The Meeting of the Waters. A great facility to relax and observe the waters flow by and listen to the beautiful sound of the flowing waters. Described by many guests as one of the most beautiful locations in the world and extremely peaceful and relaxing. Convenient to Glendalough, Clara Lara fun park, hidden valley in Rathdrum and their Christmas Island festivities, and Avondale House. A great location for those attending weddings in Brooklodge Aughrim, Woodenbridge hotel or Clonwilliam House. All within 20 minute drive.
The Meetings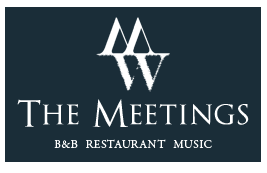 Thomas Moore wrote his Poem the Meeting of the Waters in the early 1800s. This poem was then set to the music of a traditional tune and was published as part of Moore's Melodies. The Meetings has been a destination for tourists for nearly 200 years attracting those who want to immerse themselves in nature. We are essentially surrounded by trees and rivers situated more or less half way between the towns of Rathdrum and Avoca. A building of various types has existed on the site since Thomas Moore's time and currently consists of a relaxed Bar/Lounge with a B&B onsite.
Intal.lacions
Bar
Libres, DVDs, jocs
Internet d'alta velocitat gratuït
Wifi Gratis
Saló
Casaments i festes privades
Aparcament per a Bicicletes
Servei de benvinguda
Botigues/Boutiques
Terrassa
Cafeteria
Regal / quiosc
Càmera de vigilància en zones comunes
Càmera de vigilància fora de la propietat
Aparcament
Aparcament a l'establiment
Aparcament gratuït
Punt de recàrrega de cotxe elèctric
Estacionament per a vehicles recreatius
Menjador
Esmorzar Continental
Esmorzar complet
Esmorzar
Esmorzar Anglès / Irlandès
Opcions vegetarianes
Opcions sense gluten
Activitats i experiències
Observació d'aus
Piragüisme
Ciclisme
Pesca
Golf
Excursions a cavall
Caiac
Activitats aquàtiques
Polítiques
Entrada

Entrada anticipada disponible sota petició

Sortida

Sortida tardana disponible sota petició

Política Infantil

S'admeten nens

Política de fumadors

No fumar

Mascotes

No s'admeten mascotes

Parties Allowed

Parties not allowed
Termes i condicions de reserva
Direccions
Road

desde

Dublin Airport

(54,0 milles)

From Airport head to M50 south. Follow to the end when it merges with the M11/N11. At junction 16, take the R772 exit to Wicklow (North)/Rathnew. Pass Aldi on you left and at the Roundabout in Rathnew take second exit to Rathdrum. Follow this road for 20 minutes through Glenealy, on around Rathdrum and you will reach The Meetings after about 20 to 25 minutes. This route uses main roads. Any Sat Nav device suggesting you take Exit 18 will result in you taking secondary narrow roads which will not save you any time if you do not know the road.
Desplaci's cap amunt