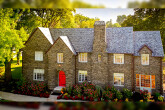 The Manor on Front
www.themanoronfront.com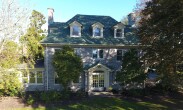 The Manor on Front Informació
Descripció
At The Manor on Front Bed and Breakfast, You can have an Unbeatable View of the Susquehanna River From Your Room. You can Relax in any of the Many Common Areas The Manor has to offer, Including the Library, Living Room, Parlor, and Courtyard, or You Can Explore the Many Attractions and Restaurants in Harrisburg PA. The Manor on Front has Free High Speed Wifi Throughout the Entire Property, and Free Onsite Parking. Each Room is Equipped with a Large HD Smart TV and Includes Netflix for Guests. The Manor on Front is also the Perfect Place to Host Your next Event. You Can Host Conferences, Banquets, Parties, Weddings, Fundraisers, Reunions, and More in The River Room.
Intal.lacions
Aire condicionat
Internet d'alta velocitat gratuït
Wifi Gratis
Trucada despertador
Casaments i festes privades
Internet alta velocitat
WIFI
Serveis de neteja
Màquina de gel
Accés per a persones usuàries de cadires de rodes
Alarmes d'incendi amb llum
Braille o senyalització gran
Càmera de vigilància en zones comunes
Càmera de vigilància fora de la propietat
Camí (ns) ben il·luminat (s) a l'entrada
Biblioteca
Aparcament
Aparcament a l'establiment
Aparcament gratuït
Punt de recàrrega de cotxe elèctric
Estacionament accessible
Instal·lacions de negocis
Escriptori
Conferències i esdeveniments
Polítiques
Entrada

Entrada anticipada disponible sota petició

Sortida

Sortida tardana disponible sota petició

Política Infantil

Només adults

Política de fumadors

No fumar

Mascotes

No s'admeten mascotes
Termes i condicions de reserva
Accessibilitat
Our ADA compliant bedroom, The Margee Suite, is located on the first floor with easy access to the Library, Living Room, Dining Room and Lounge. This room is wheelchair accessible and the ensuite private bathroom features a Roll-In shower.
Direccions
Road

desde

North Front St

(0,0 milles)

Parking is at 2917 North Front Street off of Manor St. Behind the White Stone House. There are two mansions, the first one is the Mary Sachs (the limestone building), the second building is a dark ledgestone. Check in is at the ledgestone. Take the sidewalk to the all glass addition, then call or enter your code to be checked in.

Desplaci's cap amunt