With the beginning of the New Year, 2023 Cabin Creekwood team has been working tirelessly on improving our properties deep cleaning, organizing, updating the bedding as well as towels. We added extra board games for family fun, equipped the cabins with shampoo/ conditioner/ body lotion combos to give you that hotel feel. We even upgraded dog treats and dog toys in out doggie baskets so your furry family members can enjoy their stay as well.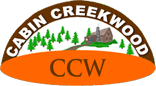 Your Truly Restful Getaway!
Cabin Creekwood Information
Description
Cabin Creekwood is a family-owned business providing relaxing getaways in the Blue Ridge Mountains of Virginia since 1982. Cabin sizes vary, with individual units accommodating up to 10 people. Larger groups can rent two or more cabins that are in close proximity. Each cabin is fully furnished, with full kitchen, bathroom(s), living room, bedroom(s), and private outdoor space. The cabins are all heated and air conditioned. In addition to the thermostatically-controlled heat, our fireplaces, gas logs, or wood-burning stoves provide a special ambiance. Outdoor living space for each cabin includes a fire pit, a charcoal grill, and a picnic table. Most cabins also have a deck or patio with additional seating. There is so much to do near-by. The Blue Ridge Parkway, Skyline Drive, Shenandoah National Park, and Sherando Lake Recreational Area are all close by, providing the opportunity to explore the outdoors during the day, and relax in comfort at night. Our area also abounds in history, whether your interest is the American Civil War, the frontier period, Shakespearean theatre, or the founding fathers. The towns of Waynesboro, Staunton, and Charlottesville are all just a short drive away. After you stay at Cabin Creekwood once, you'll realize why we have so many guests who return year after year, some for as long as 20+ years in a row!
Cabin Creekwood is very family oriented. We do our best to make sure every stay is special. Our staff are regularly praised for the friendly and helpful way they treat guests, whether helping to find activities, solving a problem, or simply giving directions.
Cleaning and safety
Disinfected between stays
High-touch surfaces disinfected
Mattress and pillow protectors
Amenities
Air conditioning
BBQ/Picnic area
Books, DVD, games
Free WiFi internet
Sun umbrellas
Housekeeping - daily
Housekeeping - weekly
Pet basket
Kitchen/kitchenette
Outdoor fireplace
Parking
On-site parking
Free parking
Children's Facilities
Children's books, videos, games
Activities and Experiences
Animal watching
Bird watching
Canoeing
Cycling
Fishing
Fly fishing
Golf
Golf - driving range
Golf - miniature
Horse riding
Kayaking
Mountain biking
Art galleries & museums
Shopping
Antiques & fairs
Theater
Walking
Water activities
Wine tasting
Adventure
Arts & crafts
Backpacking
Card, board, video games
Cinema
Family fun
Games, chess, cards
History/science museums
Hunting
Mountain sports
Re-enactment
Retreat
Skiing - alpine
Wild life
Ski school
Hiking
Policies
Check in

Check out

Child Policy

Infants and children welcome

Smoking Policy

No smoking

Pets

Pets welcome

Parties Allowed

Parties not allowed
Booking Terms and Conditions
Directions
Road

from

Blue Ridge Parkway

(2.0 miles)

For Logwood, Oakwood , and Barnwood

Go west on Route 664 at milepost 13.6. Go 2 miles, then turn left onto 814 Love Rd Travel 2 miles there is

a cluster of three buildings Logwood is the leftmost Cabin, (896 Love Rd) Oakwood is the center Cabin

(900 Love Rd) Barnwood is the rightmost Cabin (904 Love Rd)

For Mountainwood

Go west on Route 664 at milepost 13.6. Go 1.8 miles, then turn left onto Creekwood Lane 30 Creekwood lane is approximately 400 ft on the left



Road

from

Interstate 64

(11.0 miles)

For Logwood, Oakwood , and Barnwood

Take Exit 96. Go south on 624, then 664 for 11 miles (through Sherando). Stay straight onto VA 814 past

Reeds Gap Road going onto VA 814 for 2 miles. There is a cluster of three buildings Logwood is the

leftmost Cabin, (896 Love Rd) Oakwood is the center Cabin (900 Love Rd) Barnwood is the rightmost Cabin

(904 Love Rd)

For Mountainwood

Take Exit 96. Go south on 624, then 664 for 10.8 miles (through Sherando). Turn left onto Reeds Gap Rd for

.2 miles Turn right onto Creekwood Lane 30 Creekwood Lane is approximately 400 ft on the left 

Road

from

Lynchburg

(49.0 miles)

For Logwood, Oakwood , and Barnwood

Take 29 north towards Charlottesville. About 15 miles from Lynchburg, turn left on route 151. Go 21 miles,

and turn left on route 664. You'll pass Wintergreen Resort on your right, and continue to a stop sign at the

Blue Ridge Parkway. Cross straight over, Go 2 miles, then turn left onto VA 814 Love Rd, travel 2 miles

there is a cluster of three buildings Logwood is the leftmost Cabin, (896 Love Rd) Oakwood is the center

Cabin (900 Love Rd) Barnwood is the rightmost Cabin (904 Love Rd)

For Mountainwood

Take 29 north towards Charlottesville. About 15 miles from Lynchburg, turn left on route 151. Go 21 miles,

and turn left on route 664. You'll pass Wintergreen Resort on your right, and continue to a stop sign at the

Blue Ridge Parkway. Cross straight over, travel 1.8 miles and Turn Left onto Creekwood Lane 30

Creekwood Lane is approximately 400 ft on the left 

Road

from

The South on I-81

(18.0 miles)

For Logwood, Oakwood , and Barnwood

Take Exit 213. At end of ramp turn right onto Route 11. Take first left onto Route 340. Go 6.6 miles then

turn right onto Route 608. At 1.4 miles, 608 turns right, but stay straight onto Route 610. Follow 610 for 5.1

miles. At stop sign turn right onto 664. Go 4.5 miles then Straight onto VA 814 . Travel 2 miles. There is a

cluster of three buildings Logwood is the leftmost Cabin, (896 Love Rd) Oakwood is the center Cabin (900

Love Rd) Barnwood is the rightmost Cabin (904 Love Rd)

For Mountainwood

Take Exit 213. At end of ramp turn right onto Route 11. Take first left onto Route 340. Go 6.6 miles then

turn right onto Route 608. At 1.4 miles, 608 turns right, but stay straight onto Route 610. Follow 610 for 5.1

miles. At stop sign turn right onto 664. Go 4.3 miles then turn left onto Creekwood 30 Creekwood Lane is approximately  400 ft on the left
Scroll to top