Le Refuge du Lutin
Rosa Gallica sàrl, 23 rue du Général De Gaulle, 67730 LA VANCELLE - RCS Colmar 441 666 252 00024 - TVA FR11441666252

www.i-love-riquewihr.com
www.rosa-gallica.fr
This charming studio offers great comfort: Large double bed (160x200) + kitchenette + private bathroom (Spacious shower + wc). Wifi. To see ...
Learn more
Description
This charming studio offers great comfort: Large double bed (160x200) + kitchenette + private bathroom (Spacious shower + wc). Wifi. To see the video, click on the triangle in the "Photos" area. The name of this studio is "Refuge du Lutin" in French. Which means "Refuge of the Imp". If you search the internet for imps, you will learn that of all dwarves, imps are the smallest and the wisest. Imps are usually between 2 feet 2 inches and 3 feet 5 inches tall and mostly have fair, red or light brown hair and clear green, blue or grey eyes. Should you be somehow taller, you could still have a comfortable stay in this studio which is twice as large as many hotel rooms!
 A German couple who spent 2 weeks in the studio described the place with some simple words: "Mini Apartment with Maxi Charm, small but never tight"...

 The studio offers traditional Alsatian decoration and modern comfort. The layout of the studio makes the best out of the available space and will provide comfortable lodging for one couple looking for a charming and elegant holiday home at budget rate. This romantic studio is equipped with a large double bed (160 x 200 cm), a kitchenette with everything necessary for preparing meals + a dining corner and a private bath room with spacious shower and wc.

 Finally, this little studio can provide a very pleasant and comfortable stay for a couple of days and even a week or so. 
 The studio is located in the medieval city walls (National Heritage) and does not have any terrace or balcony or any private space to sit outside. But it is overlooking the public garden of the Cour des Bergers (Shepherd's Square) where you can enjoy the benches opposite the magnificent scenery of the ramparts. The forest and vineyards are a mere 300 yards away: walks and picnic are waiting for you.
Facilities
Facilities
Iron
Ironing facilities
Refrigerator
Pets allowed
Free high speed Internet
Internet hotspot
Free WiFi Internet
Hairdryer
Non-smoking
Hypoallergenic bedding
Freeview TV
Cable or satellite TV
Tea and coffee making facilities
High speed internet
WiFi Internet
Kitchenette
Heating
Heating - room controlled
Fan
Wardrobe
Wood, tiles, stone floor
Carbon monoxide detector
First aid kit
Fire extinguisher
Dishwasher
Toaster
Microwave
Kitchenware
Cooking appliance
High quality bedding
Additional blankets
Linen provided
Blackout curtains/blinds
Private entrance
Wine glasses
Electric kettle
Coffee maker
Radio
Room/unit on ground floor
Keypad access
Smoke detector
Clothes drying rack
Dining table
Rubbish bin
Accessible height bed
TV/Cable hookup
Laptop friendly workspace
Reviews
Le Refuge du Lutin
(1 Guest Reviews)
100%

Would Recommend
Review Summary
Apartments

2.0

Value

2.0

Friendliness

1.0

Cleanliness

1.0

Facilities

1.0

Service

2.0

Location

1.0

Breakfast

0.0
Le Refuge du Lutin Information
Description
OUR GITES ARE DISTRIBUTED IN 2 DIFFERENT LOCATIONS IN RIQUEWIHR Charming and elegant vacation rentals of the Rempart of the Year 1291 They form a set of 6 exceptional lodgings around a small garden: 4 of them are located in an old Renaissance house built in the year 1580 on the first rampart of Riquewihr erected in 1291. The property faces the famous vineyard the Schoenenbourg which dominates the village; 2 other apartments complete the series in an adjacent house dating from the 17th century. All these lodgings have been designed to meet the new 5-star standards for the furnished tourist apartments category. A small garden with a medieval design gives an exquisite touch of refinement to this original ensemble. The holiday homes of the Rempart of the Year 1500 A set of 3 romantic, elegant and comfortable lodgings, decorated in the purest Alsatian tradition. These exceptional lodgings are located on the second belt of ramparts of Riquewihr, completed in the year 1500. The walls on the west side of our gîtes are made of the rampart itself. The facades on the east side have the appearance of typical Alsatian half-timbered houses. They are quietly located. The studio « Le Refuge du Lutin*** » (the refuge of the Gobelin) is located on the rampart of the year 1500.
Remparts de Riquewihr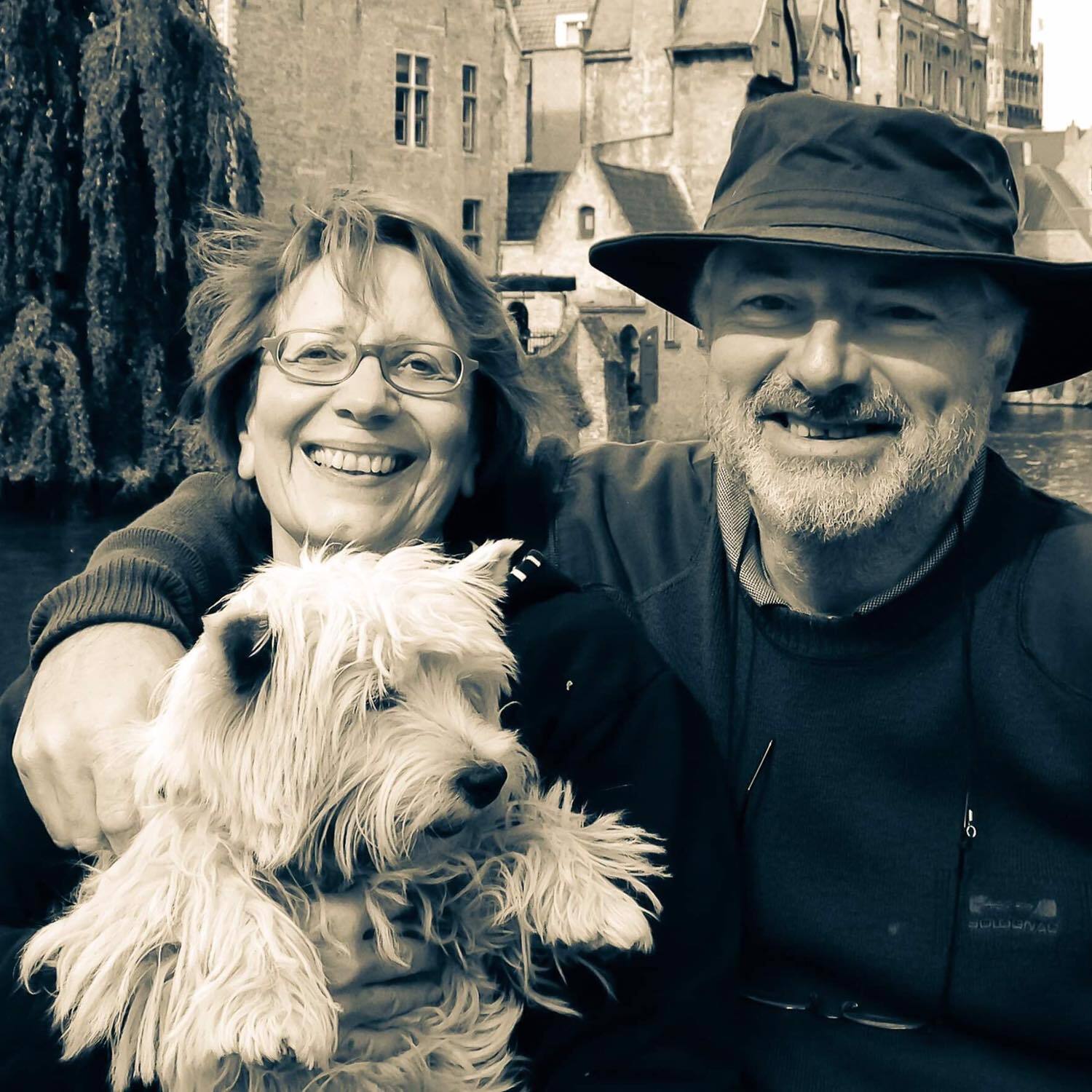 « Les Remparts de Riquewihr » belong to our small family business - Rosa Gallica sàrl - created by Martine & Jean-Paul Krebs, enthusiasts who have evolved in the world of tourism throughout their careers. Our philosophy: that your stay in one of our gites is a highlight of your stay in Alsace! Our guests, some of whom have become friends over the course of their stays, want to savor every moment of their stay in Alsace. Having had the chance and the privilege to restore these houses steeped in so much history, set in such a beautiful setting - Riquewihr, a listed medieval village is among the most beautiful in France and Europe - we wanted to do more than a place to sleep. We wanted that, at the end of a busy day of visits and discoveries, you find pleasure in spending a moment of comfortable relaxation in an apartment that is your home during your stay. We wanted to honor a remarkable site at the same time as all aesthetes and epicureans, lovers of good and beautiful things, who will know how to savor the place and the moment.
Cleaning and safety
Professionally cleaned
Disinfected between stays
Contactless check-in/out
High-touch surfaces disinfected
Linens washed to local guidelines
Linens washed above 60°C/140°F
Mattress and pillow protectors
Washable duvet covers
First aid kit
Staff trained in safety protocol
Facilities
Shuttle service
On-site entertainment
Free high speed internet
Free WiFi internet
WiFi internet
Cleaning service
Plug adapters
Express check in
Express check out
Pet bowls
Safe deposit box
Parking
On-site parking
Off-site parking
Valet parking
Limited parking
Activities and Experiences
Animal watching
Bird watching
Cycling
Golf
Mountain biking
Art galleries & museums
Shopping
Antiques & fairs
Walking
Wine tasting
Adventure
Arts & crafts
Backpacking
Casino, arcades
Concerts, music
Entertainment
Exhibition
Family fun
History/science museums
Leisure park
Mountain sports
Re-enactment
Special interest
Wild life
Hiking
Policies
Check in

Early check-in available on request

Check out

Late check-out available on request

Child Policy

No preference

Smoking Policy

No smoking

Pets

Dogs welcome, Pets by arrangement

Parties Allowed

Parties not allowed

Quiet Hours

Quiet hours between 21:00 and 09:00
Booking Terms and Conditions
Directions
Air

from

Euro-Airport Bâle - Mulhouse - Freiburg

(78.0 km)

Pour les vols intercontinentaux, les aéroports les plus proches et pratiques sont Zurich et Francfort.
Scroll to top